Memory of Toon Janssen
(Dutch translation, click here)
The Janssen family in 1943
Top row l to r: Wim, Bernard & Johan Janssen
Lower row l to r: Gerard, Antonius ("Pop" Toon), Henk, Trees, Peter (Piet), Hendrika Janssen-Gelden (Mother) & Wilhelmina (Miep)
Antoon Janssen was born in Wijchen in Holland on the 27th. December 1894 out of an ordinary farm family and had to work on the farm to help to survive after his mother died at an early age. He was called up to serve the Dutch army at the start of the 1st. world war, but he choose the cavalry where he got the job as looking after the high ranked officers. After the 1st world war he got a job as a chauffeur in The Hague.He met Hendrika Gelden (our Mama) and they got married in 1921. Our Mama couldn't settle in the big city The Hague and after Bernard (Bert) was born in1922 they moved back to Nijmegen. When he returned he had a taste for the motor industries, and around 1923 he began his first venture GARAGE ĎDE HOOPí which was mainly a Taxi business with a place where clients could park their cars overnight out of the cold (there was no antifreeze than) His garage was close to the railway station and therefore he had a good start in his taxi service, as there were not many taxi's around, let alone cars.
Address book 1928:
Garage "De Hoop" Arend Noorduynstraat 15-17, bij 't Station. - Telef. 2760.
Janssen, A. J., auto-verh.inr., A. Noorduijnstr. 17, [telefoon] 2760.
Groot, J. J. de, aannemer, v. Welderenstraat 49, [telefoon] 1327.
He made a lot of money when there was severe flooding in the whole district of the Maas & Waal, as he knew that area well, he was popular with politicians and other officials to show them around the flooded areas, he was a very entertaining communicator. Around 1928 he and a builder De Groot , who became a silent partner had an idea to build a much larger complex, which they commenced shortly afterwards and was completed during an extreme cold winter in 1929/30, when one of the construction workers got killed due to the extreme cold weather.
In 1929/30 he opened his new venture garage ĎAUTO PALACEí which was central heated during the winter. The car industry started to grow and doctors, solicitors and all kind of business people started to drive motorcars. The garage was so large that you could park 2 rows of 25 cars on either side with an isle way in the middle to total capacity of 100 cars, there was room to wash cars behind the big wall and a workshop area, where the foreman with his mechanics worked.
The entrance to the garage on the Nieuwe Marktstraat, not for from the Spoorstraat. Extensive changes to the neighbourhood of the railway station in the 1960ís have resulted in the disappearance of this part of the Nieuwe Marktstraat. At this site there is now a studentsí flat on Vredestraat.
Soon after he was able to obtain the ĎRENAULTí Dealership which was than the largest in Holland. Pop used to travel to Paris and had to drive new cars back, this was ok in summer, but when the cold winter started and he drove chassis back on a wooden box as a seat, that what you would call dedication. As a child, I can recall Pop telling the story that he always wore a 7coated lined coat and when he used to stop off at his younger brother who lived in France close to the Belgium boarder, he would have icicles hanging from his nostrils, and when he walked into to the heated room the change of temperature was too much and near collapsed. This man could see great opportunities for all his children and he employed a Sales Manager in the name of Ten Bokkel Huinink a man who was part of the development and design of Hollandís first car racing track at Zandvoort in Holland.
Genealogy Ten Bokkel Huinink: www.tenbokkelhuinink.nl/website/familieframeset.htm?/website/familie000204.htm#204
Arnoldus Gerardus ten Bokkel Huinink,
Born in Ubbergen on 19 nov 1900,
Profession: car dealer, car salesman Ė garage keeper
Lived in: among others, Ubbergen, Zandvoort, Nijmegen, Berg en Dal,
Died in Nijmegen on 15 aug 1978.
He also employed a Night watch man, who lived in the house between the office and the garage with his wife and 2 children, his task was to wash the cars and repair tyres if needed and in many cases had to deliver the parked cars to the doctors if called on an urgent call during the night, he also had to keep the big furnace going with coal supply during the winter months.
Auto Palace: on the left the sales Manager Mr Ten Bokkel Huinink, on the Right is my Father, Director Toon Janssen
The Renault dealership blossomed during the 1935/6, due to Pop going into heart of the City and demonstrate the various good selling points of the vehicle car or truck he was trying to promote with the showing of a windscreen on 2 boxes and him as a 90 kg man jumping on. If anyone showed interest, he would give them a cigarette or a prospect buyer a cigar. The boys school was next door and often the teacher would say ĎJanssen that is your father coming around the corner?í so you can see an apple doesnít fall far from a tree. During the early part of garage life I can recall the petrol bowers were hand operated and were placed the edge of the footpath. As Pop's partner de Groot wanted his own garage, than it was another brainwave to develop and. Build a Service petrol station around 1937on a main road just outside the city of Nijmegen . We moved out of our house in the Vredestraat to have it redecorated and painted, for about 6-9 months we lived in a rented house on the Groenenwoudseweg in 1937 while the service station was being built.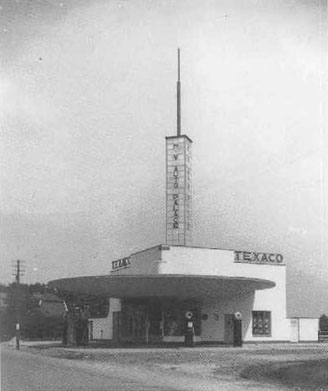 More information on this building on Noviomagus.nl (in Dutch)
The original plan was that our entire family of Mum & Dad and 8 children could live there. It had a glass tower which could be seen for many KM or miles which indicated Texaco was the fuel sold, however we never finished up living in there as de Groot changed his mind and we went living back to Vredestraat and a manager was put into the service station to look after that.
Toon Janssenís house on the corner of Vredestraat (left) and Nieuwe Marktstraat (right).
He also got involved in the BOVAG which was an organisation that looked after the garages and petrol industries. He was secretary for many years, before & after the 2nd. World war. A SAYING that Dad used often, ĎPETROL STINKS AND ALWAYS WILL STINKí
At the start of the war the garage "auto palace" was immediately taken by the Germans, who used it for various uses, as Dad didnít wanted to work for the so & soís, he was taken away on several occasions between riffles but he was always able to talk himself out of it. However many other garage proprietors conceded and joined the N.S.B. party and did get plenty of work, however they were all after the war was over marched through the city and locked up for several month or years.
Towards the end of the war Nijmegen was mistakenly bombed in Feb 1944 where 40 complete streets were completely wiped out, and some of these houses were only partly damaged but were completely burned down by the Germans, in our block all was left was the garage "AUTO PALACE" and the house, office and the Night watchman quarters and the school next door.
During the war years Dad had to find some work and he was lucky to be able to drive a lady childrenís doctor around to nearby country towns with an DKW, petrol was only for doctors with coupons and later on the car was changed over to coal & wood furnace and the other thing he did, was able to fish and was able to just about supply the whole street. Popís other ways to provide for the family was to bring milk and butter home in the back of the doctorís car in between bags of grass for the nice blue silver rabbits which he was allowed to keep in a corner of his garage. However one day he went a little too far, he had organised a killed pig, which he picked up by himself in the doctorís car but he was stopped by the German police on the canal bridge, but he couldnít stop and indicated to the doctorís sign on the car and speeded off, by that time the German police on his motorcycle overtook Popís shortcut and when he arrived back at the garage a German soldier was patrolling the front door and let him in, the soldier continued the patrolling and the police on the motorcycle didnít expected to be amongst the German soldiers, Pop with the aid of a butcher who was waiting inside to cut it all the meat up and we had again some supply.

However during that time the silent partner wanted out at approx. 1943 and Dad was forced to find someone to buy some shares, which he did, his name was Portocarrero, who was a multimillionaire and he and our accountant van Hulst had set all the paperwork in action but they were never signed. (I think, as mum & Dad kept their cards close to their chests)
Address book 1948:
Automobielen v. d. Bosch en Jansen Nieuwe Marktstraat 4 CHEVROLET - BUICK
Bokkel Huinink, ten A. G., St. Stephanusstraat 5.
Bosch & Jansen v. d. - kantoor - werkplaats - verkoop Nieuwe Marktstr. 4 -†
magazijn: Vredestr. 1 Garage: Holtermanstr 18-24
Hulst, van wed. Th. H., geb. J. M. A. Beker, K. Beynenstraat 14.
Janssen, A. J. dir. autogarage, Vredestr. 3
Hugo de Grootstraat 22 Garage [in 1959 this house has number 94]
Consequently that multimillionaire and Bosch & Jansen garage prop. worked out a dirty trick in jail and cooked something up to take over the building as Dad accountant got killed during the latter part of the war and consequently when all those crook garage people were released from jail, dad was forced to go in partnership with van Bosch & Jansen, who were the Chevrolet & Buick distributors, but that partnership was ended as soon as the millionaire won the battle over the building ownership, due to the lost of documents and the accountantís death in the bombardment. In my eye as a young teenager, this would and was my parents most disappointed part of their life.
Partnership met v/d Bosch & Jansen. Picture was taken from Kronerburger Singel towards the end of the building in Vredestraat. The photo was taken on the 10th April 1950 celebrating my brother Wim's (Fransiscaan) first "Plechtige H. Mis" during a procession from the Vredestraat to the "Nood Kerk" in the Bottelstraat. I only can remember that de Doddendaalse Franciscaanse kerk was bombarded and for that reason we had to use the Nood Kerk.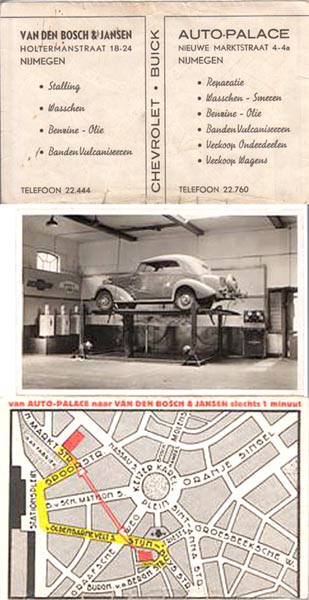 There were some good stories also, immediately after the war was finished Pop got a phone cal from a lady, who said "Mr Janssen I have got a Renault sitting in my own garage which belonged to my husband who was a captain in the army and got killed during the war, before he went to war he took the wheels of the car that you had sold him and had placed it on blocks. Would you be interested to buy it back", he said ok and paid back what she had paid for, when he picked the car up and had to put air in the tyres and petrol in the tank with a new battery it kicked over immediately, so he came home and decided to go to his old place of birth to see his relations, the car performed perfect, however on the way home I (young Peter) said ĎPop would it be funny if the car stopped, as it started to cough. Well he said if it does, you all walk home and it did and he kept to his word, and even after the tow truck came past he instructed him not to stop. After some weeks Pop had to go to a BOVAG meeting in the Hague and had decided to go by car, so the mechanic checked the car over for his boss the night before and backed the car into position for Pop to take off in the morning, but Hank who thought it would be nice to bring the car around and started it with full acceleration not realising the car was in reverse, I have never seen anyone running upstairs right into the attic being chased by his father and called out, you canít get me. His answer was, I have to catch the train now but Iíll catch up with you tonight and he did. I will never forget as I was sleeping in the same bedroom.
Another incident was when Pop was in partnership with the Chevrolet dealership, he had sold a new Buick to the Manager Director of a shoe factory and after along wait for availability, he had to pick it up from Rotterdam ,and I (Peter) was the lucky person to go by train with him, what a beautiful ride that was, however Pop had to stop off in Utrecht to see someone and while he was out. I started to fiddle with various knobs and one knob stack to my thumb, which was the cigarette lighter. I nursed that thumb home without telling Pop. Dad would never give in and decided, with the support that many clients would follow him in a new smaller venture, he started trading as TOON JANSSEN, in Hugo de Grootstraat in Nijmegen, but due to the distance away from "Auto Palace", many clients dropped off, but again he was able to get a government Army contract, which was to restore Army trucks & Jeeps, by the way they were to be completely stripped and chassis and panels were transported to a sandblaster and than painted and returned for assembly after all mechanical parts were
reconditioned
One of my last job I had to do on a weekend to deliver a VW Beetle we had sold to a Mr Amsing who had a brother in Australia for many years, so I got the job and he was a man of time, 1 oíclock Saterday afternoon and he was to pay in full, so he invited me in and counted the full amount in hard silver coins in cash. I canít remember how many Guilders.
At this point our Brother Gerard had decided to migrate to Australia in December 1949 and arrived in January 1950, with the idea that his brother Peter would follow as soon as I was 21 years old, and arrived in May 1951, as jobs werenít that easy to get at General Motors Holdenís at that time, I had to wait until Oct/Nov. to get a job with the Nasco Division in the spare parts. However after saving to pay back my fare by boat, which I had borrowed. Between Gerard & Peter we were able to buy a house in Surrey Hills, which was suited for the rest of the family in 1953. The family arrived but the house wasnít vacant for a while and we had to try to get everyone in a temporary accommodation, Our dearest Mum died the morning after arriving in Melbourne dock, After all she gave 8 children life and provided all our needs during the war and supported TOON her husband as he wanted to settle in Australia with the rest of the family Shortly after the family. arrived into Australia, Bert our brother who stayed behind for a while, awaiting his ok to migrate send some photoís of ĎAuto Palace Ď which was burned down. How, we never know, but someone did get what they deserved.
The remains of the garage after the fire in 1954. The topmost picture shows the Vredestraat with the private house on the right. In the background you can see the Kolpinghuis. The middle picture was taken from a house on Vredestraat. The little building in the top right corner is the old Openbare school No. 1, in the background to the left is the Marie Adolf fountain otherwise known as the Quack monument. The third picture was taken from the Nieuwe Marktstraat.
After living in Surrey Hills and repainting the house, the hardest part was to cook for the big lot and Popís English was somehow limited and after a while a Lady Neighbour who was widowed felt sorry for that Dutch family and wanted to cook for us, so we gladly accepted and Pop was getting some English lessons at the same time. After a long time Pop was able to say thanks Love and this Lady & Pop married with the idea to try to get into a service station. Peter and Dad decided to make an appointment with the Caltex group (Texaco) and requested if there would be a site in Victoria, they said, how do we know who are and how can you support that. Well, we asked if they had a librarian and they did and we asked him to come up with the service station Dad and his silent partner had build in Nijmegen, Holland in about 1937 and won front page coverage by Texaco for design.
With that, their sales manager gave us a list of sites to look at in Victoria, after several trips up the country, we selected the site at Wangaratta, Victoria. With the help of Allice Dadsey, who was by than Toon Janssen wife, they moved up to Wangaratta situated along the Hume Highway with her son John and Hank our youngest brother, who was the mechanic, they started this simple service station, which had a small coffee and sandwich bar attached , at that time restricted hours to open the service stations were in force. This takes me back to that period that I (Peter) would go up on a fortnightly basis to keep the books, Also if you wanted to put the time into these service stations there was money to make, but like Toon he was opening longer hours, but he would get fined at least once a month, however the Hume highway , which was only 2 lanes and the transport industry did get to know that Toon Janssen Caltex service station could be open, so much so, that in the early hours of the morning the local police station would ring him and pleaded to come in early to clear the road traffic waiting for petrol. By that time , Allice & Toon had purchased a weatherboard house, but
Pop had to build a cellar, because he had still the war memories in the back of his mind, so he dug it out by himself , before they put an extension on to cater for Alliceís parents, who were Mr. & Mrs Gorell. This Service station kept Toon busy until he had overdone & overworked, and had to vacate it, as Hank & Bert also decided to open a Shell service station in the heart of Melbourne on the corner of Spencer & Latrobe streets.
Again after a few years operating a workshop as well, Hankís wife fam. had shifted from Melbourne to the Gold Coast, so Hank and the fam. Decided to shift also. This left Bert on his own, so he decided to go to open a service station in Kaniva in country Victoria and Hank soon after getting into Queensland opened a Shell service station in The Gap a Brisbane suburb and operated it for 25 years.
Peter started work for General Motors Holdenís in 1951 and became a Material control Supervisor and was employed for 42 years. John started work for General Motors Holdenís in 1953 and became a budget supervisor and was employed for about 38 years. Miep, after arriving in Australia in 1953 joined also General Motors Holdenís in 1954 as a Secretary to the Electrical Engineer with the knowledge of 4 language shorthand stenographer and worked there for 8 years , even John de Winkel (Miepís husband) started work with GMH in the spare parts warehouse in 1959 and finished up in the Computer room until he retired after 27 years of service to the company. Gerard who started his carrier as pastry cook, also finished up working for GMH in the spare parts warehouse as a storeman, and worked himself to a foreman over the process store, where all packaging were done, he passed away august 1988 after spending 27 years with GMH.
THE JANSSEN FAMILY HAS GIVEN GENERAL MOTORS A TOTAL OF 142 YEARS OF SERVICE.
To let you all know that Bertís son Wim is in the industry refurbishing cars and loves motorcycle racing.
Peterís son Richard is in radiator repair business and has had great interest in hot rods racing.
Peterís son Michael has his own workshop and is qualified in Mercedes Benz, and enjoy motorcycles as a hobby.
Hankís son Tony has spend many years working for his father in service station as mechanic, he also loves his motorcycles.
Peterís Daughter Helenís oldest son Dane is doing an apprenticeship for a Holden dealership.
Trees eldest son Johnny has been in the Road Transport industry for many years, And the youngest son Mark is currently working for Holden special vehicles and Also has had great love in assisting in a motor racing team.

WE SALUTE ANTOON JANSSEN , FOR HIS INPUT & FORESIGHT OF THE PETROL AND MOTORCAR INDUSTRY.

Collated by Peter A. Janssen, May 2004. With help of my sister Wilma de Winkel - Janssen.
© copyright Peter Janssen

Digital adaptation: Henk Kersten/Stichting Noviomagus.nl

Additional research: Hylke Roodenburg and Mark van Loon

Translated into Dutch by Anna Simon, June 2005.